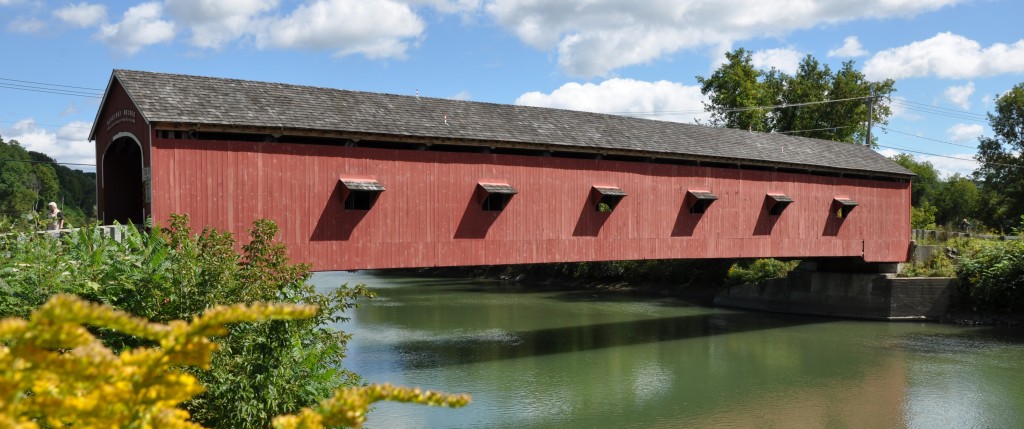 2023 Proposed Meeting schedule
April 16, 2023 – Confirmed Spaghetti Warehouse, Syracuse, NY
689 Clinton Street, Syracuse, NY. Doors open at 11 am, lunch served at noon, meeting at 1 pm. Karen and Wayne will present a power point presentation on our State bridges following dinner.
Donate a baked good for raffle or auction.

Cost of dinner is $29 per person. Must be paid by April 10th.
Please make checks payable to:
NYSCBS
Carol Fortin, Treasurer
305 Fravor Road
Mexico, NY 13114
June 11, 2023 – Confirmed – Canal Town Museum – 122 Canal Street, Canastota NY, museum tour after 2 pm meeting.
July 9, 2023 – Confirmed – Town of Bennington, Wyoming County, Cannon Covered Bridge. Meeting to be held at Cowelsville Fire Department, 361 Clinton Street, (Rt. 354), Cowelsville, NY. Meeting at 1 pm, doors open at noon.
August 12 and 13, 2023 – Columbia County PA. Covered Bridge Safari
Headquarters at the Motel 6 in Bloomsburg, PA, 6305 Columbia Blvd. 17815. A block of rooms have been reserved for August 11 and 12 at $75/per night, including tax. When reserving, call 570-387-1776 and ask for rooms reserved under the NYS Covered Bridge Society. Cutoff date is July 28, 2023 with cancellations up to the date of arrival. Breakfast is not included, but a restaurant is attached to motel.
September 10, 2023 – Virtual Meeting at 1 pm.
Clay F. Converse
109 West Main Street
Dryden, NY 13053
HP (607) 844-3550
CP (607) 351-3068 (Only when mobile)
converseclay@gmail.com

Clay Converse is inviting you to a scheduled Zoom meeting.

Topic: NYSCBS Meeting 10 Sep 23
Time: Sep 10, 2023 01:00 PM Eastern Time (US and Canada)


November 12, 2023 – Annual Meeting/Harvest Dinner/Bake Sale/Christmas Card Exchange, Hamden, NY. Dinner at Noon, meeting at 1 pm. other particulars TBD.
* The Executive Board will make the decision of whether the meeting will be in person or virtual. The membership will be notified two-weeks in advance by newsletter and website of such a change.