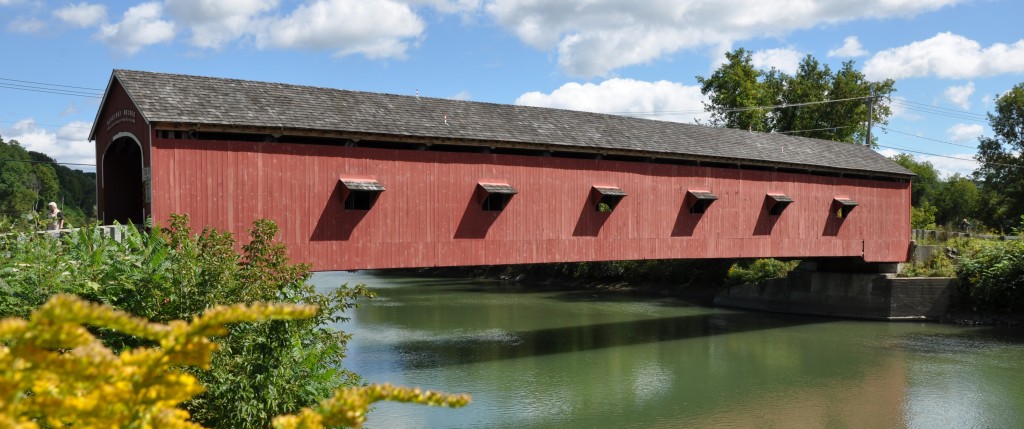 2019 Tentative Meeting Schedule
Some Dates, Times and Places have yet to be confirmed. As they are confirmed, it will be posted
April 7, 2019: The Spaghetti Warehouse, Syracuse, NY
689 N. Clinton Street
Syracuse, NY.
Meeting at 1 PM followed by a slide presentation by Gary Beckstead. The presentation will be of covered bridges, stone arch bridges, round barns, light houses, mountains, snow pictures, etc. of New York State.
Doors open at 11 AM, Lunch at 12 noon, followed by our meeting. $21.00 per person. Checks should be made out to NYSCBS Reservations should be in by April 2,2019
Send checks to Mr. and Mrs, Ron McGay
105 Rebecca St.
Syracuse, NY 13212
Phone: 315-458-3524
Include your name, phone number and number attending.
June 9, 2019: N. Blenheim, NY – Confirmed:
NY Power Authority Visitors Center
1378 State Route 30
Meeting at 1 PM. They will be giving free tours of the nearby Lansing Manor if desired. Refreshments will be available.
June 29, 2019: Blenheim Covered bridge grand-opening ceremony:
Ceremony, vendors, music,food,and displays will be nearby the covered bridge in N. Blenheim, NY. More details as they become available.
July 14, 2019:
Hyde Hall Mansion information center and Hyde Hall CB display area. Located in the lobby of the Kent Administration Center, Cooperstown, NY. Meeting at 1 PM, followed by Hyde Hall Mansion tour $10.00 per person if desired.
July 26, 27, and 28, 2019 NSPCB Covered Bridge tour in New Brunswick, Canada:
Base of operations will be in Roachville, NB N8 E4G216. The plan is to see about 26 bridges and other sites of interest including Hopewell Rocks, King County Museum, and Fundy National Park. If you are interested in attending the tour, please contact Bill Caswell at wscaswell@yahoo.com.
August 11, 2019: Slate Valley Museum, 17 Water St., Granville, NY
Open for set up at 11 AM, meeting at 1 PM. Museum tours will be available.
September 7 and 8, 2019:
Safari in Grafton, Merrimack and Sullivan Counties New Hampshire and Windsor and Orange Counties Vermont.

Base of operations will be in White River Junction. The plan is to see 20-25 covered bridges and local sites of Queechee Gorge, King Arthur Flour Store, 19th Century Mill, and Railroad Festival Weekend. More information will be available as the time is closer.
November 10 2019:
Annual Meeting and Dinner with Christmas card exchange at the Hamden Community Hall ( behind the church) 35806 St. Hwy 10, Hamden, NY
Doors open at 11 AM. Turkey Dinner at 12 Noon followed by the meeting. $15.00 per person. Checks made out to NYSCBS. Reservations should be in by November 4th.
Send check to:
Karen Marshfield
6754 Basin Clove Rd.
Hamden, NY 13782