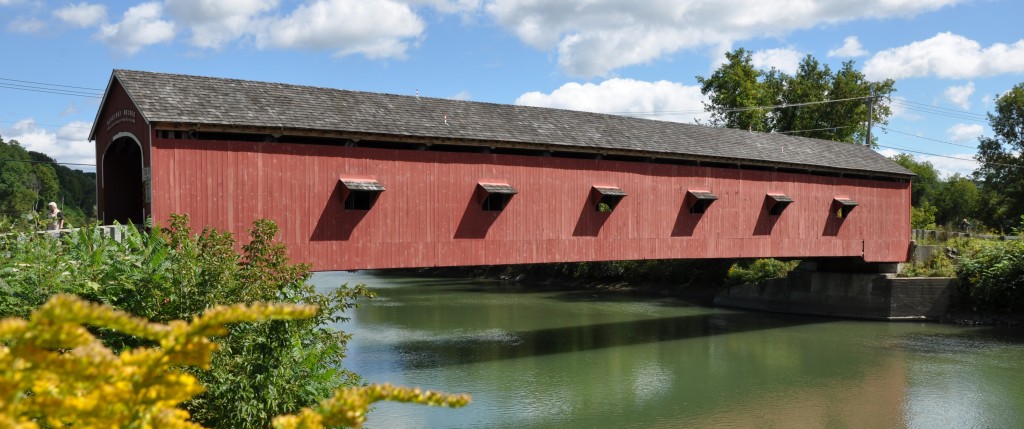 2018 Tentative Meeting Schedule
Some Dates, Times and Places have yet to be confirmed. As they are confirmed, it will be posted
April 8, 2018: The Spaghetti Warehouse, Syracuse, NY
June 10, 2018: Newfield, NY where you can visit the Newfield Covered Bridge:
Our venue for the meeting has changed
The meeting will be held at:
MASONIC TEMPLE
188 Main st.
Newfield, NY
Doors open at 11am. Meeting at 1PM. Bring your own lunch. You can visit the bridge before and after the meeting.
July 8, 2018:
The meeting will be held at the Van Tran Flat covered bridge. From NY17 Take exit 96 and go 1 mile right on Old RT 17 and turn left on to Covered Bridge Road.
Picnic lunch at noon, meeting at 1 PM with guest speaker Dr. Joyce Conroy, Town of Rockland Historian.
August 12, 2018:
Meeting at the Blenheim/Gilboa Pump Storage Visitors Center, 1378 State Rt 30, Blenheim, NY. Doors to the Center open at 10 AM. Meeting at 1 PM. Coffee will be provided. Following the meeting you can visit the new Blenheim Bridge.
September 21, 22, and 23 2018:
New York State Covered Bridge Society and the National Society for the Preservation of Covered Bridges are joining together for our annual safari. This year it will be in Ashtabula, Ohio
Our base will be:
Ramada Inn
1860 Ashtabula-Austinburg RD
Ashtabula, Ohio 44010
We will visit all 19 bridges. A charter bus will be available with tour guide Betty Morrison, former director of the Ashtabula County's Covered Bridge Festival.
Reservations can be made at the Ramada Austinburg/Ashtabula, 1860 Ashtabula-Austinburg Road, Austinburg, Ohio. The group rate is $89.99 per night which comes to $105.96 with taxes. You need to make your reservations for three nights to get the group rate. Friday, Saturday and Sunday nights. Make your reservations by calling 440-275-2711. Mention you are with the covered bridge society to get the group rate.
For planning purposes and further updates. please contact Bill Caswell nspcb@yahoo.com . If you would like to use the tour bus contact Bill or Wayne Marshfield waynem@delhitel.net
November 11, 2018: Hamden, NY
The Annual Harvest Dinner hosted by Wayne and Karen Marshfield.
Hamden Presbyterian Church Community Hall (behind the church)
35806 St. Hwy 10
Hamden, NY
Doors open at 11AM, Dinner at 12 noon, Meeting to follow. Checks are to be made out to: NYSCBS for $15.00 per person Reservation must be in by November 5, 2018
Send to:
Karen Marshfield
6754 Basin Clove Rd.
Hamden, NY 13782
6o7-746-6765
Don't forget the Christmas card exchange!!!!