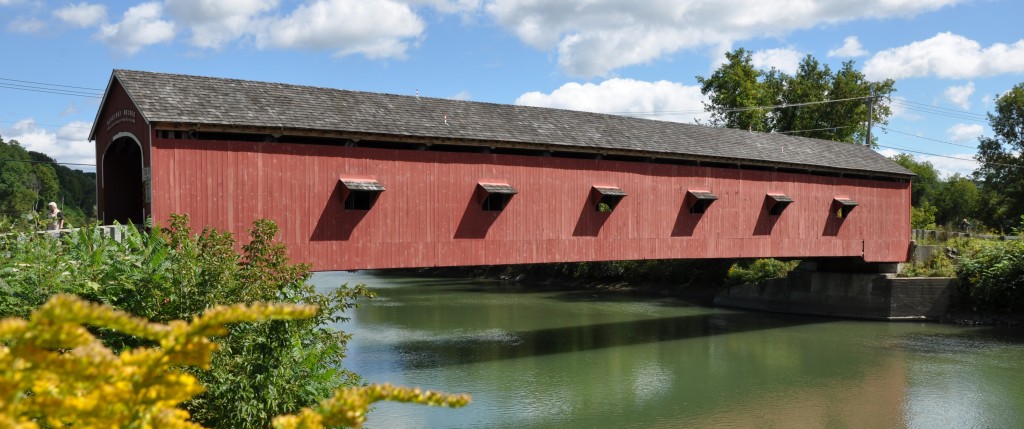 2018 Tentative Meeting Schedule
Some Dates, Times and Places have yet to be confirmed. As they are confirmed, it will be posted
April 8, 2018:
The Spaghetti Warehouse
689 N. Clinton St
Syracuse, NY
$21.00 per person. Doors open at 11 A.M. Lunch at noon with the meeting
to follow. You can choose from the white menu.
Reservations are to be in by April 3, 2018. Include your name, number attending and phone number. Check are to be made out to NYSCBS, send to:
Mr and Mrs Ron McGay
105 Rebecca Street
Syracuse, NY 13212
or call 315-458-3524
June 10, 2018: Newfield, NY where you can visit the Newfield Covered Bridge
Newfield Fire Hall
77 Main Street
Newfield, NY 14867
Doors open at 11A.M. Bring your own lunch, meeting at 12:30 P.M.
July 8, 2018: Unconfirmed
Picnic at Van Tran Covered Bridge
August 12, 2018: Unconfirmed
Visit the new Bleinheim Covered Bridge
September 21, 22, and 23 2018:
New York State Covered Bridge Society and the National Society for the Preservation of Covered Bridges are joining together for our annual safari. This year it will be in Ashtabula, Ohio
Our base will Ramada Inn
1860 Ashtabula-Austinburg RD
Ashtabula, Ohio 44010
More information concerning making reservations will come soon.
November 11, 2018: Hamden, NY
The Annual Harvest Dinner hosted by Wayne and Karen Marshfield.
Hamden Presbyterian Church Community Hall (behind the church)
35806 St. Hwy 10
Hamden, NY
Doors open at 11AM, Dinner at 12 noon, Meeting to follow. Checks are to be made out to: NYSCBS for $15.00 per person Reservation must be in by November 5, 2018
Send to:
Karen Marshfield
6754 Basin Clove Rd.
Hamden, NY 13782
6o7-746-6765
Don't forget the Christmas card exchange!!!!